We are committed to your journey for a more restful sleep
Whether you are beginning your search to understand your sleep challenges, or you are already on therapy to help you sleep better, we are here to support and help you on your way.
For almost two decades, Sleep Medix has been focused on providing testing and therapy for sleep disordered breathing. We strive to provide a superior level of care and service in a safe and supportive clinic environment.
With key relationships with our suppliers, we provide and support the most advanced technologies available. Our strong and diverse team of clinicians allows us to remain leaders in care. Sleep Medix has been a trusted partner by hundreds of physicians in Alberta.​
Together with our family of clinics, we are committed to helping you sleep better.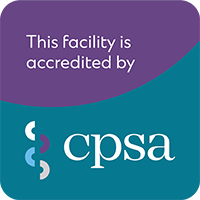 College of Physicians and Surgeons of Alberta (CPSA) – Accredited Sleep Medicine Diagnostic Provider
Why is this important? In Alberta, it will soon be a mandatory requirement that all sleep providers have this designation. It ensures that the highest level of safety protocols is in place and being followed for both employees and patients. Sleep Medix was one of the first sleep providers to receive our CPSA accreditation status.
Ensures the highest standards of care through best practices.
Independently assessed and accredited.
Ongoing process improvements and scheduled re-assessments.
Our team has been trained and assessed for compliance of patient safety and quality care.
Home Sleep Apnea Tests (HSAT) interpretations conducted by CPSA-approved interpreting physicians.

Our mission is to provide focused access to individuals seeking assistance with testing and/or treatment of sleep disordered breathing.
The values of Trust, Wellness, Integrity, Caring and Excellence (TWICE) guide our daily interactions within the health care industry.

Sleep Medix is comprised of a leading and dedicated team of industry professionals:
Board-certified American Academy of Sleep Medicine (AASM) medical directors; providing medical oversight of adult and pediatric cases for Level III testing and PAP therapy.
College of Physicians and Surgeons of Alberta (CPSA) approved interpreting physicians for Home Sleep Apnea Testing (Level III).
Registered Respiratory Therapists and Certified Sleep Technologists.
Polysomnographic Technologist (PSGT) from the American Board of Registered Polysomnographic Technicians (BRPT).
Multidisciplinary partnerships with AASM-certified dentists to facilitate alternative obstructive sleep apnea treatment options and our partnership with Level I sleep providers to facilitate treatment options for complex patients throughout Alberta.